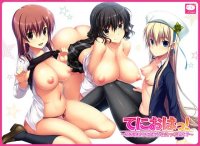 Hey, … eum, so … would you try to do … some sensual things … with me? … a lot?"
Yes, she, Ami Himekawa who is but a classmate, just asked me so.

Let's do lots of sexy, filthy things together♪

Having no experience to speak of towards eroticism, both the protagonist and the heroines are all the more intrigued towards it. With such an intense common curiosity as a spark, they become sex friends in order to sublime each other's curiosity and delusion while trying out various erotic games.