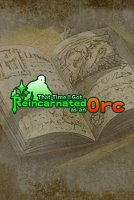 The protagonist Okubo Tatsuya is a 35-year-old convenience store clerk.He is an introvert, has no friends. And his favorite thing is playing games at home.
One day, he received a text message signed "The Goddess".

"Do you want to be a hero in another world?"

Okubo thought he received a harassing text message, but everything turned out to come true.
Accidentally, he reincarnated in another world and became an orc—
Can Okubo shoulder the mission of defeating the Demon King, and restore peace to the world...?