Maji de Watashi ni Koishinasai! A-1
---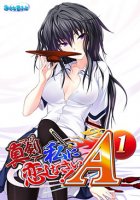 A fandisc featuring new routes for Benkei, Azumi, and Sayaka.
User Feedback
See also:

Camp Buddy: Scoutmaster Season features the adventures of Scoutmaster Yoshinori Nagira proceeding the events of 'Camp Buddy' during the off-season.

Yoshinori and his fellow scoutmasters undergo an exciting expansion project, reconnect with old acquaintances, and finds romance with Aiden Flynn, the camp's happy-go-lucky lead chef, or Goro Nomoru, the stern but caring camp president.

Help Yoshinori with his decisions and create a special bond with your chosen partner. Forever it's our Buddy Oath!


Our hero, Makoto, possesses the power of "kotodama" which allows one to control people with the power of one's voice.

Having an interest in the outside world, he leaves the hidden village he has lived in all his life. However, he found himself woefully unprepared and collapses on the side of the road in a small town almost as remote as his village. Just as he's resigned himself to death, he's saved by Oribe Kokoro, a girl whose family runs a cafe in that town.

Using his kotodama powers, Makoto becomes a part of the Oribe family and begins attending school with Kokoro. He soon meets several girls who each have their own special circumstances. Will Makoto be able to use kotodama to help these girls? And what is the true nature of kotodama?

This is a story of the words that weave the ties that bind...


The main heroine is such a cutie, and the villainess is super hot! It must be easy being the lead in a game where beautiful ladies fight over you... This time that pretty boy prince is going to have his work cut out for him, when you, the protagonist of this story, are reborn in the game world. With all your knowledge of the plot, this replay is going to be a breeze!

How do you put a stop to Rosa's scheme to steal the prince for herself? By fucking her of course! Then the two of you can put your twisted little heads together to find a way to convince pure sweet little Monica that the prince isn't really worth it, when she can be riding on your magnificent resurrected erection! With your balls deep in the pussies of the political powerhouses of this virtual world, you're set up for a quick trip to easy street! You're king of the world baby!


Amidst a war between humans and monsters, the spider princess Arachne was at the height of her boredom. She spent every day stuck in a castle in the middle of nowhere, watching the same mundane events play out over and over. She even tried to provoke her assistants, the harpy Rupuia and the cyclops Cyc, into some fiery entertainment to no avail. At her wits' end, Arachne came up with a new plan to rid herself of boredom - a summoning ritual.

Her assistants tried to dissuade her, warning of the dangers, but nothing could stop Arachne. She pried open a rift to another world and unleashed something hideous... a human!

This human, named Hibiki, is terrified by his new surroundings and begs to be sent back home. But that portal was a one-way street! And to make matters worse, there aren't enough bedrooms in the castle for all four of them! What will become of Hibiki now that he has to live (and sleep) with these 3 otherworldly girls?


In the classroom on his first day of school, protagonist, Kiryu Yuuya, meets Mikanagi Akiha, a girl with a mysterious aura about her.

Akiha was the spitting image of a miko who repeatedly appears in Yuuya's dreams and kills him.

However, Yuuya felt a strong sense of fate in their meeting each other.
"It's feels like we finally meet... Yuuya-san."
Akiha said those words, filled with a strong fascination in Yuuya.
They were soon drawn to each other...

However, Akiha's older sister, the miko, Koharu, let Yuuya in on a startling revelation.
"Akiha-chan... is not someone from this era."

A young woman's love that pierces through the vastness of a thousand years.
The tragic fate imposed upon these fighting shrine maidens.
And the followers of darkness who seek to rampage through the world of night...

With those strong feelings alone, will Yuuya and Akiha be together?!