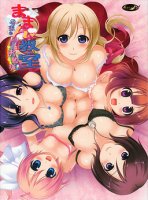 You're tasked with teaching H lessons to pregnant women.

The protagonist, Kei Washinosu is searching for a job. Every time he goes out, he greets her, Honoka Mizushima, a woman working part-time at a confectionery store, who he has the hots for, however, she's already married and and on top of that, pregnant.

One day, he saves a man who got himself in a traffic accident.
This man then handed him a note with the address of "Fujita Obstetrics" written on it. He was entrusted with a message and, out of kindness, goes to pass it on at the maternity hospital. Kei explains the situation about the message he received to the hospital's head doctor, however, he completely misunderstands the message and instead thinks he is the instructor of preparation lessons for pregnant mothers.

While taken aback, the head doctor asks him: "Hey, do you like pregnant women?".
Kei then replies, without hesitation: "Yes! I do!".

And so, with that said, before Kei became aware of it, he got himself a job at Fujita Obstetrics. On his first day of work, in full anticipation, he opens the door to his classroom and witnesses the presence of both Honoka Mizushima, the woman he loves, and Momo Sakurai, his pregnant little sister, among others. Others include some of Honoka's friends, his childhood friend and, for some reason, his mom as well.

Not quite understanding the current situation he found himself in, his daily life with the pregnant mothers in the classroom has begun...