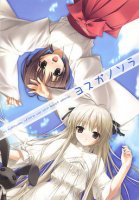 Two twins - Haruka and Sora, his younger sister, are going back to grandfather's house.

They visited this house many times when they were kids and they still remember it. A while ago, they lost their parents in a car accident and they decided to move and live at their grandfather's house.... Nao, their old friend, Ryouhei, his classmate, Akira, a miko at a neighboring shrine, and Kazuha, Akira's close friend, welcome them.

Nothing is changed. His good old memories and silent atmosphere heal his sadness.... However, his peaceful life gradually changes.... A secret promise made long time ago. A lost treasure. A real reason for moving to the town. Real feelings. The story now starts under the summer sun...