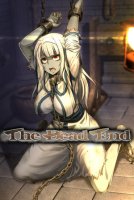 Long ago, a powerful witch created a dungeon with a terrifying curse, then retreated into its depths. Any who fall within its dark, stony halls are cursed with undeath. Before long, they become nothing but a mindless, shambling creature.

However, the dungeon also brims with treasure, a siren call to adventurers from all over the land. The only way to survive the curse is to rely on Rescuers, a band of "human recovery agents" charged with plunging into the depths to pull out fallen adventurers.

You are one such rescuer, fresh on the job. But soon after your arrival, a curious request comes in. Recover the corpse of a Holy Maiden. The implication is clear. It must be a corpse, and nothing else. When your fellow Rescuer absconds with the advance payment, you're left to keep things running. Will you solve the mystery of the ancient witch? Find the Maiden, then decide her fate? Or will you abandon all sense of duty to indulge in your selfish desires? Only you can decide.

---