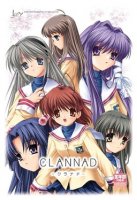 Although in his third year of high school, Okazaki Tomoya does not pay too much attention to school. His classmates are worried about him, but his best friend does not mind.
He does not want a girlfriend but he does not realize that he is popular with the girls.
However, his life changes when he meets a girl on the way to school...